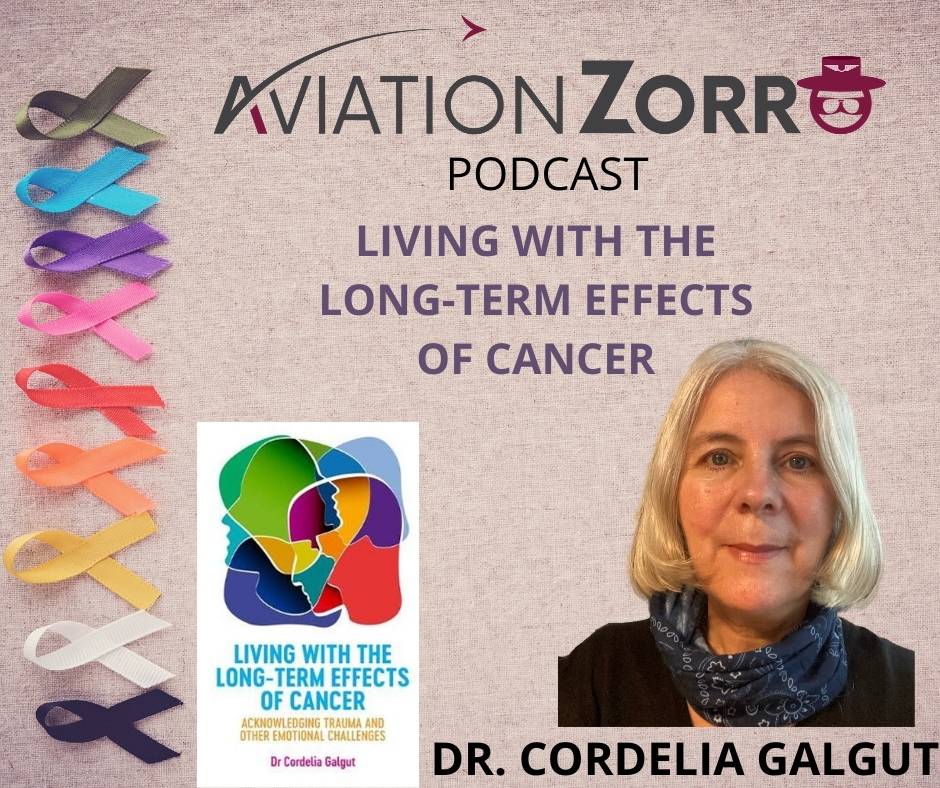 AviationUnited By AviationZorro Chatted with Counsellor, Psychotherapist and Author Dr. Cordelia Galgut about the Long-Term Effects of Cancer.
The Podcast Chats about Dr. Cordelia's Background, Her experience of finding out she had Cancer, Treatments and how she coped during this time, What happens after Cancer(Does life go back to normal), What emotions can be experienced, Cancer effect Relationships, Worklife, Are Cancer patients tired of being associated with Cancer, What can you suggest to listeners who are going through or know someone going through Cancer at this time.
Dr. Cordelia can be found via her website: http://www.cordeliagalgut.co.uk/
Buy Living with the Long-Term Effects of Cancer here:
https://www.amazon.co.uk/s?k=dr.cordelia+galgut&i=amazon-devices&ref=nb_sb_noss
Disclaimer:
This podcast and website represents the opinions of AviationZorro and our guests to the show and website.  The content here should not be taken as medical advice and is for informational purposes only, and because each person is so unique, please consult your healthcare professional for any medical questions or Aviation/Aerospace Employer, Regulator, organisation for questions related to you.
Views and opinions expressed in the podcast and website are our own and do not represent that of our places of work. While we make every effort to ensure that the information we are sharing is accurate, we welcome any comments, suggestions, or correction of errors.
Privacy is of utmost importance to us. This website or podcast should not be used in any legal capacity.  No guarantee is given regarding the accuracy of any statements or opinions made on the podcast or website.
In no way does listening, reading, emailing or interacting on social media with our content establish a, coaching session, employment interview, wellbeing advice, employment advice, doctor-patient relationship.
AviationZorro is a Ltd company based in Dublin, Ireland.
If you find any errors in any of the content of his podcasts or blogs, please send a message to contactus@aviationzorro.com
This podcast is owned by "AviationZorro LTD"
If at any time you want to play or stop the podcast, it is at your own discretion. The podcast may contain conversation or opinions you may find unsuitable or against your opinions or beliefs, if you feel you may be uncomfortable, stressed, anxious, worried, concerned, upset, insulted by any of the podcast, we recommend you do not listen to the podcast.